Greetings cardfighters! This weekend was an exciting one as we just finished ARG's first ever National Tournament for Cardfight Vanguard. This week's article includes the winner Matthew Day's decklist and his analysis of how the event went for him and his deck. I also have pie charts for the specific ratios of this tournament! There were 78 recorded participants, but this is not counting the players who had byes though apparently.
This is the make-up of all the decks played at the tournament as of round 1 (so the players who had byes are not counted). As expected, Shadow Paladin was the most played deck in this event by a significant margin. Royal Paladin is a solid second seeing the rise of popularity for the Sanctuary Guard Dragon deck and also was the deck that earned 1st place. From there on, the other popular clans were present in generally similar numbers. What really surprised me is the lack of Aqua Force. The deck has done so well in previous ARG events this summer that I was sure the deck was going to have a solid presence in the National Tournament but they are nowhere to be seen. It's possible they were lumped in the "other" category as this pie chart was provided to me, but they did not place in the Top 16 cut. Speaking of which, here is the breakdown of the Top 16.
The Top 16 breakdown is somewhat in proportion to how the tournament began via percentages. Shadow Paladin took up 31.3% of the decks in the Top 16 and 23% of decks played in the overall tournament, clearly showing them as a dominating force. Kagero, Dimension Police, Oracle Think Tank and Royal Paladin took 12.5% of the decks in the Top 16, while taking similar numbers in the overall tournament (10.2% for Kagero/Dimension Police, and 16.7% for Royal Paladin). Link Joker and Great Nature were all knocked out in swiss rounds, and we had a Gold Paladin, Neo Nectar, and a Narukami deck squeeze in the last remaining slots.
Alas, we come to our first ever ARGCS Cardfight!! Vanguard National Champion, Matthew Day! First off, congratulations. Of all the participants, he made it through the grueling rounds of Swiss as well as the playoff rounds. The deck he ran is none other than Sanctuary Guard Dragon! The deck has been a strong contender ever since its debut in the various ARGCS State Qualifier events earlier this summer. While the deck has been present in many ARGCS events afterwards, it just had not taken 1st place in anything yet, until now. Mr. Day defeated Henry Do's Shadow Paladin deck in the final match of the tournament. His decklist is as follows:
Matthew Day - Royal Paladin
Grade 0: 17
Starting Vanguard: Shining Knight, Millius
4x Jewel Knight, Noble Stinger (Critical Trigger)
2x Blazing Jewel Knight, Rachelle (Critical Trigger)
4x Jewel Knight, Opt Harpist (Stand Trigger)
2x Jewel Knight, Glitmy (Stand Trigger)
4x Ardent Jewel Knight, Polli (Heal Trigger)
Grade 1: 14
4x Laurel Knight, Sicilus (Stride Enabler)
4x Heat Wind Jewel Knight, Cymbeline
3x Holy Knight Guardian (G-Perfect Guard)
1x Rainbow Guardian (Perfect Guard)
1x Hidden Sage, Miron
1x Jewel Knight, Sabremy
Grade 2: 12
4x Jewel Knight, Swordmy
3x Knight of Twin Sword
3x Transmigration Knight, Brede
2x Starlight Violinist
Grade 3: 7
4x Sanctuary Guard Dragon
3x Sanctuary Guard Guaranatee
Grade 4: 8
3x Holy Dragon, Sanctuary Guard Regalie
2x Holy Dragon, Saint Blow Dragon
2x Miracle Element, Atmos
1x Shrouded Divine Knight, Gablade
His match-ups throughout the tournament goes as follows:
R1: Royal Paladin (Jewel Knights) - win
R2: Shadow Paladin (Dragruler) - loss
R3: Murakumo - win
R4: Royal Paladin (Sanctuary Guard-Thing Saver) - win
R5: Narukami (Brawler) - loss
R6: Dimension Police (Metalborgs) - win
Top 16: Oracle Think Tank (Susanoo) - win
Top 8: Kagero (The X) - win
Top 4: Dimension Police (D Robo) - win
Finals: Shadow Paladin (Revenger Abyss) - win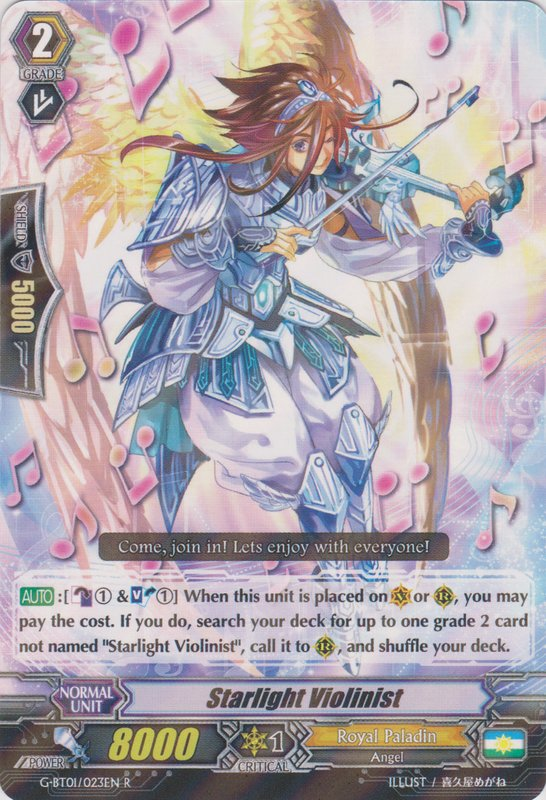 I had a chance to talk to Matthew about his deck and how the event went for him. Regarding his build, he said the MVP card was definitely Starlight Violinist. He said the card was very powerful in the early game as it gave a huge advantage and it also served as extra copies of Jewel Knight, Swordmy in his deck. He stated that if he were to do the event all over again, he would easily bump this card to three copies instead of two. He also was unable to obtain the Jewel Knight perfect guard Flashing Jewel Knight, Iseult so he was forced to run G-Perfect Guards as a replacement, which caused him trouble in his playoff matches against Kagero and Dimension Police, who abused his rear-guards. Keeping the rear-guards in check is a popular tactic to play around Sanctuary Guard Dragon, as it keeps their damage zone in check by limiting their counterblasts and it also reduces the impact of Holy Dragon, Sanctuary Guard Regalie. Other then that, he said there was nothing else he would change in his deck until further support comes out in G-BT04: Soul Strike Against the Supreme.
He ran two copies of Miracle Element, Atmos which people would normally consider strange. Matthew's reasoning for it was that it was to account for the Messiah Link Joker match-up, which he says the deck auto-loses to. His strategy was to use Atmos to grind out the Nebula Dragon, Big Crunch Dragon turns and use Holy Dragon, Saint Blow Dragon after their Perfect Guards were used up. Thankfully for him, he ended up not even playing against the deck. Matthew said he ran Shining Knight, Millius as his starter of choice instead of a Jewel Knight starter such as Desire Jewel Knight, Heloise because he wanted to guarantee a copy of Knight of Twin Sword when he was able to begin striding. Lastly, he said he chose the 6 stand/6 critical line-up because stand triggers are far more valuable once you push your opponent to five damage, which the deck is easily capable of doing, and it allows for strong combos with Knight of Twin Sword if he gets lucky.
Matthew wanted to thank ARG for hosting a well organized event, having accurate judges, and for choosing a great location for the tournament. He also wanted to give a shoutout to his local card store in Reynoldsburg, Ohio, known as Card Academy. He wanted to thank them for hosting the ARG Ohio State Qualifier and for providing the cards he needed in a convenient manner, as well as motivating him to drive all the way to Philadelphia to participate in the National Tournament! Once again, congratulations Matthew Day!
That concludes this weeks article. Be on the lookout as the next season for the ARG Circuit Series will be starting up soon! Do you have what it takes to be the next champion?
Discussion
comments