Welcome back fellow cardfighters to my second article. I really hope you enjoyed the last one about Aqua Force. If you missed it, be sure to check it out HERE. Aqua Force however isn't the only exciting clan coming out in G-BT02 Soaring Ascent of Gale and Blossom. This week, I'd like to bring your attention to the very popular Narukami clan!
What's so cool about Pikachu dragons?
As with last week, I'd like to go into a short history lesson about Narukami. The clan has always been popular among players. Narukami was debuted in BT06 - Breaker of Limits, which was the 3rd booster set to come out in the English game. Dragonic Kaiser Vermillion proved to be a very popular deck and was present in the meta for well over a year, especially upon receiving Dragonic Kaiser Vermillion "THE BLOOD" in BT09 - Clash of the Knights and Dragons. The Narukamis received the Eradicator sub-clan in BT10 - Triumphant Return of the King of Knights. Powerhouses such as Eradicator, Gauntlet Buster Dragon and Eradicator, Dragonic Descendant held a solid spot in the top tier realm throughout the break ride era. The Brawler sub-clan represented the Narukami upon reaching the legion era. With the ability to attack most rear-guards on the opponent's side of the field every turn, they are a force to be reckoned with. Brawler, Big Bang Knuckle Buster also has the unique title of being the only 13000 power legion card in the game, which has a niche among specific match-ups.
So what awesome stride unit does Narukami get? This my friends is Conquering Supreme Dragon, Conquest Dragon! The stride unit's persona-flip skill retires a front row rear-guard and power-ups your front row for EVERY open front row rear-guard on the opponent's field. That already is a guaranteed 5000 power boost to your front row, barring any open circles your opponent may already have. The really good part is that Narukami is right at home for the straight up retiring mechanism, and it's very easy to use a couple other card abilities in the main phase to retire more cards and gain a MASSIVE power increase! Dragonic Vanquisher is a very easy to use card that synergizes beautifully with Conquest Dragon. Once you reach the Conquest persona turn, striding on top of Dragonic Vanquisher already nets you two retires, which will grant you 10000 power to the front row.
These cards are neat, but I'm a loyal Eradicator player
Eradicator fans rejoice, as your deck has been beautifully revived thanks to the G era! Eradicator, First Thunder Dracokid was an awkward card to use back in the break ride era as it was very difficult to retire a rearguard during the battle phase. The G Era has changed this thanks to Voltage Horn Dragon and the Thunder Dragon Knight, Zoras G unit. As we know, the G unit carries over the name of the heart, so if you stride on top of an Eradicator Grade 3, the conditions are met to use First Thunder Dracokid to get a potential superior ride during the battle phase with Eradicator, Sweep Command Dragon. This would equate to a free re-standing vanguard and when are free re-standing vanguards ever bad?
So what would a sample decklist look like with these new cards?
Grade 0: 19
3x Eradicator, First Thunder Dracokid (One is the starting vanguard)
4x Ionization Eradicator, Kapunis (Critical Trigger)
4x [Insert any Eradicator Critical Trigger]
4x [Insert any Eradicator Draw Trigger]
4x [Insert any Eradicator Heal Trigger]
Grade 1: 14
4x Eradicator, Wyvern Guard Guld (Perfect Guard)
4x Mighty Bolt Dragoon (stride enabler)
2x Steel-blooded Eradicator, Shuki
Grade 2: 10
4x Demonic Dragon Berserker, Chatura
2x Two Swords Eradicator, Koenshaku
Grade 3: 7
4x Eradicator, Sweep Command Dragon
2x Eradicator, Dragonic Descendant
Grade 4: 8
4x Conquering Supreme Dragon, Conquest Dragon
3x Thunder Dragon Knight, Zoras
This deck has the ability to shift between the Sweep Command play or focus on Conquest Dragon upon the player's discretion. Four copies of Mighty Bolt Dragoon allow for the utility to grab the Dragonic Vanquisher if the situation desires it, as well as to filter through the deck. Voltage Horn Dragon is the MVP of the deck, allowing us to use First Thunder Dracokid, retire rear-guards for card advantage for a cheap cost, and trigger Two Swords Eradicator, Koenshaku to eliminate more cards. Koenshaku also combos well with Ionization Eradicator, Kapunis to gain plusses to the hand, while adding a couple "Eradicator" cards to use with Dragonic Descendant if needed. If Koenshaku isn't a card that appeals to you, Dragonic Deathscythe is a well accepted alternative that plays nice with Conquest Dragon.
Extra copies of First Thunder Dracokid are included as a safeguard against retire-focused decks, as well as giving the potential to resolve another Sweep Command superior ride later in the game. The deck is very light on Counter Blast, so Eradicator Perfect Guards work fine to synergize with Descendant and better protect yourself against the Dragonic Overlord the "X" match-up. Four copies of Rising Phoenix provides a reliable draw engine while being able to potentially be used twice if the Sweep Command superior ride is pulled off. Lastly, Steel-blooded Eradicator Shuki also gains power by linking your skills together to form gargantuan columns.
The Eradicator deck has relatively solid match-ups across the board, especially against last article's Aqua Force as it is able to answer problematic cards and neuter their board. DO beware of other retire-based decks, as retiring First Thunder complicates your game plan. Revengers can be quite a pain because of this due to Blaster Dark Revenger "Abyss". Conversely, Conquest Dragon can potentially punish the Revenger player for retiring their own field with Revenger, Phantom Blaster "Abyss".
The return of the Vermillion Thunderbolt!
If even Eradicators aren't old school enough for you, do not fret because the classic Dragonic Kaiser Vermillion has returned as the revival legion of the set! Dragonic Kaiser Crimson revives Vermillion in such a fashion to be a playable pick in the meta. Upon being in Legion as well as being at Limit Break, one may use Dragonic Kaiser Vermillion's skill for no cost! This equates to a consistent two free retires a turn, or having your opponent have less attacks against you. If they decide to do the latter, stride into Conquest Dragon and punish them for not having rear guards. Eradicator, Egghelm Dracokid from BT16 - Legion of Dragons and Blades will assist in turning off the Limit Break requirement for Crimson.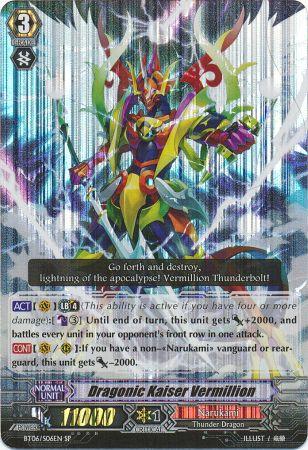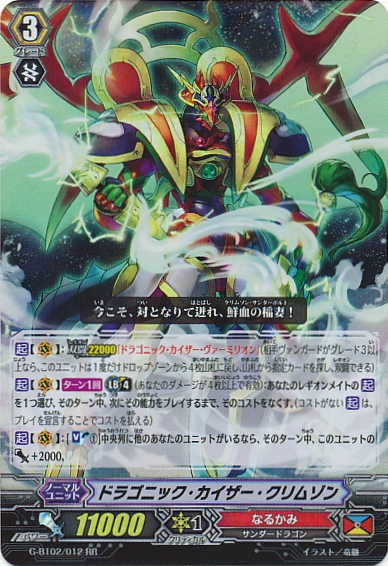 Why should I play this deck and what should I look out for?
Narukami is getting many options with Set G-BT02 Soaring Ascent of Gale and Blossom. Whether you want to play Eradicators, Vermillion, or just tweak a couple cards in your Brawler deck, there's something for everyone. Narukamis reward precision and appeal to players who enjoy playing control and offense at the same time. Be on the lookout for the re-surface of the Narukami clan when the next set hits, or prepare a deck that has the ability to take them on. Decks that can superior call more efficiently than they can retire such as Liberators and Maidens can prove to be a harder matchup for Narukami, but it's still very do-able. Until next time, Play Hard or Go Home!
Discussion
comments