My greetings, duelists! Welcome back to The Scoop! This is the realeset Yu-Gi-Oh! News Report that you'll find, and of course it's right here on ARG!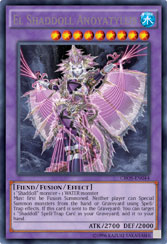 Is Switching Correct?
We're only a week and some change away from the 150th YCS and players all around the country are scrambling to finalize plans and gather up their decks! With the release of the new set, Crossed Souls, Shaddolls are truly gaining some ground in terms of the number of people converting to the deck. It's ability to further combat Nekroz with its new Water-based Fusion monster has enticed a great portion of the community to make the switch. But is that the right choice? Here are a series of questions that I'll pose, but not answer, in order to spark some conversation among everyone! We want to know how you'd answer the questions:
If I don't draw Mistake, can I keep up with Nekroz?
What Water monster(s) do I play?
How do they serve the purpose of the deck without being cloggy?
Is Treeborn Frog actually good enough when I want to have cards in my backrow(Mistake)?
Will I have ALL the outs every game?
Are my outs as easily accessible as theirs?
These are the questions that have been assembled in order to bring logic and reason to switching from what most duelists consider the best deck to a deck that only intends to make its best efforts to keep up with it. The comments are open for discussion, and we want to know what you think!
 Creator To Appear AT SDCC
In the final wave of guests to appear at San Diego Comic-Con, it was announced that Kazuki Takahashi will be making an appearance and happy to meet fans of Yu-Gi-Oh! For anyone who is unfamiliar with the name, take a glance at the bottom of your cards and there you'll find it! He is the creator of the game of Yu-Gi-Oh! and he doesn't make too many guest appearances here in the United States. Now would be a great time to go and meet the man that started it all. If you could meet him, what would you ask him? Post your questions in the comments below!
Prize Pool for Summer Championships Announced 
ARG is hosting its the Yugioh Circut Championships this upcoming August and the prizes have been announced! Let's take a look at the breakdown:
1st Place: $5000 + Flight to Future ARGCS
2nd Place: $2000 + Flight
3rd/4th Place: $1000 + Flight
5th-8th Place: $500 + Flight
9th-16th Place: $300 + Flight
17th-32nd Place: $150
33rd-64th Place: $100
So there you go! Most of the competitive Yu-Gi-Oh community has grown beyond the expectation for great prize support when it comes to doing well in the game, and that's a general consensus. Those that complain that the prizing is sub-optimal are playing for the wrong reasons, and will never be satisfied. This set of prizes, however, is one of the best sets of prize support that this game has ever seen. Booking flights is a crutch for some players, even the ones that consistently do well. To have everyone in top 16 guaranteed a flight to a future ARGCS is absolutely incredible and plenty to be excited about. Which poses a question now that all things can be considered:
Would you rather be the Ultimate Duelist or the ARG Champion? 
Short and simple news this week guys, so we're wrapping it up there! Next weekend, I'll be traveling to the 150th YCS and ready to talk to everyone! Is there anyone in specific you'd like to see interviewed and brought to you during the aftermath of Columbus? A popular player? A judge? Anyone? Let me know and I'll do my best to get it done!
 Upcoming Events/Releases
Crossed Souls Release/Legal Date, May 15
Columbus, Ohio 150th YCS, May 23-24
ARGCS St. Louis, June 6-7
ARGCS Edison, June 13-14
ARGCS Syracuse, June 20-21
ARG State Championships, June 20-21
North American WCQ, Nashville, June 27-28
Discussion
comments