Salutations, Duelists! Welcome back to The Scoop! This is the realeset Yu-Gi-Oh! News Report that you'll find, and of course it's right here on ARG!
Making the Cut Before Making the Cut
It's most duelists dream to make the top cut and, subsequently, win any YCS event that they enter. This particular YCS, however, may pose a different challenge that precedes the challenge of making the top cut after swiss! Under the FAQ for the 150th YCS in Columbus, there's a bit of a note which states that the seating for this event is 2,100 people. The most recently significant YCS was the 100th YCS which took place in Long Beach, CA. The attendance for said event exceeded 4000, but was only able to be accommodated by a series of very fortunate events; events which players should not count on occurring in Columbus, OH this upcoming weekend. So what does that mean for the players who took time off of work/school and spent money traveling to Columbus to compete and will end up being turned away? It apparently means you're absolutely out of luck and that you should have arrived earlier. Now while I can argue that Konami, as a business, cannot expect another turn out of 4,000+ attendees, I can say that I believe this event will eclipse the 2,100 player cap which is just unfortunate. The best advice I can give you is that Pre-Registration starts at 1:00pm on Friday. Be prepared for lines.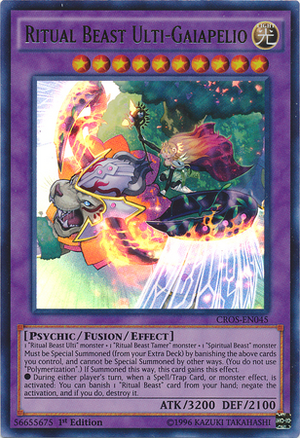 Beauty of the Beasts 
Stamping through the forest following a series of Regional Qualifiers across the nation are none other than Ritual Beasts! They've been stirring up a lot of commotion since the announcement and release of their new Fusion monster, Ritual Beast Ulti-Gaiapeligo that serves as a walking, 3200 ATK Solemn Judgment bringing Psychic channeling MONSTER. That card alone takes that deck to an insane level, and they've even added a Zefra monster to their short-staffed arsenal. Is it a viable option? Well I refuse to confirm or deny that. What I will do, however, is say that they are a much better deck than they were a week ago, and they may very well be worth preparing for. Expect to see these beautifully drawn cards on the other end of the table this upcoming weekend.
A Quick Poll
I took to the internet to ask the duelists of the world what deck they thought would be the most dominant force this upcoming weekend. The results?
56% Nekroz
29% Other
12% Satellarknight 
3%  Shaddoll 
Very much in favor of Nekroz. Again proving to be the stand-out favorite, it's hard to imagine a deck that is not Nekroz taking the most slots in the top cut. Might that percentage come as a result of the amount of players who will be piloting Nekroz as opposed to other decks? Most likely, but that's for good reason. It has continued to show itself as the clear cut best deck based on tournament results from the past weekends.
Organization is Key
I'm the type of person who likes to check and double check my bags and pockets before I go anywhere, and I usually follow a bit of a mental checklist when doing so. Some of you, on the other hand, are not like me and use different methods to be certain that everything is accounted for. The rest of you just leave and end up forgetting stuff. So in order to help those that may need such an assistance, I've comprised a mini-checklist of sorts that you may choose to copy or add-on to in order to make sure you've got yourself in order before you embark on your journey!
Deck/Mat/LP Tracker(Calculator or Pen & Paper)

Wallet

Cell Phone

Correctly Written Decklist

Hygiene Products

CLEAN Clothes/Shoes

COSSY I.D.

Plane Tickets/Boarding Pass
Feel free to take that list and make it much more specific to your needs, but that encompasses pretty much everything you'll need to compete. And as an additional reminder, please be certain to watch your items and bags. With the enormous amount of people projected to be in attendance, theft is almost a certainty.
Annnddd here concludes The Scoop for the week! I hope to see everyone out and about in Columbus this weekend for the YCS! I'd love to speak with any and everyone! As always, if you have news you'd like to see investigated or people you'd like to see interviewed, drop it in the comments and I'll make my absolute best efforts to bring it all right here to you! Until next time, Play Hard or Go Home!
 Upcoming Events/Releases
Columbus, Ohio 150th YCS, May 23-24
ARGCS St. Louis, June 6-7
ARGCS Edison, June 13-14
ARGCS Syracuse, June 20-21
ARG State Championships, June 20-21
North American WCQ, Nashville, June 27-28
Discussion
comments