Hello Cardfighters, thank you for taking the time to view my post.  Today I will be talking about the new Angel Feather archetype released in box 11 called Celestials.  Before anything I would like to introduce myself and some of my achievements so that it may give me some credibility.  If you don't already recognize me, my name is Thanh Ly and I am part of Team TKR if you know the team and not me.  Although we have not been part of the ARG scene, we have been part of the competitive scene since it has started in Northern America.  My achievements include 1st place finish at the Bushiroad Kick-off event, 2nd Place finish at Seattle World Championship regionals in 2012, and being 1 of 16 people invited to nationals last year just falling short of worlds.  Now I wish to share with you my knowledge and experience of the game.
As many of you have probably seen from opening your set 11 boxes, the Celestial archetype was released.  I played this deck for the Team tournament at nationals that was recently held in LA and was pleased with the performance of the deck.  These new Angel Feathers take their main mechanic to a whole new level and turns them into powerhouses without even trying.  Lets take some time to talk about the specific cards that make the Celestial engine work and hit up to 27K columns on their own.
Grade 3s: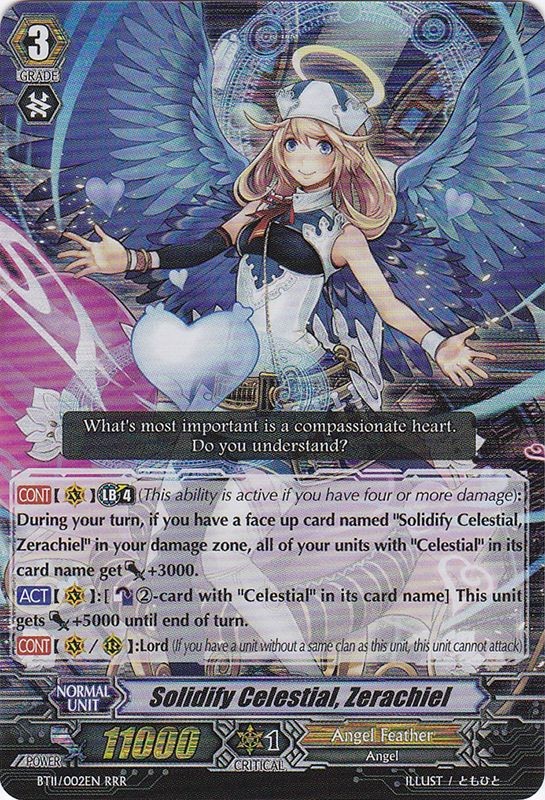 Solidify Celestial, Zerachiel-This is the heart of your deck and your main vanguard.  Her limit break reads "During your turn, if you have a face up card named "Solidify Celestial, Zerachiel" in your damage zone, all of your units with "Celestial" in its card name get [Power]+3000".  This limit break happens at all times during your turn with absolutely no cost as long as you're at limit break 4 and have Zerachiel face up in your damage zone.  This means +6K to every column which leads to your opponent having to drop high amount of shields.
Prophecy Celestial, Ramiel-Angel Feather's first and only break ride which is a good option to have first until you have limit break and ready to ride Zerachiel.  She gives +10K like any other break ride and her secondary skill to add a card to your hand from the damage zone is great for utility.
Grade 2s: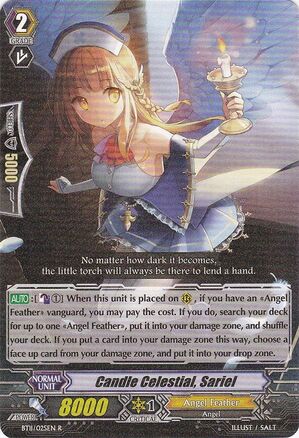 Candle Celestial, Sariel- This unit's main purpose is to get Zerachiel in your damage zone so you will pretty much always have Zerachiel's limit break active.  If you already have Zerachiel in the damage zone face up then you can always put a card you need on the field in the damage zone.  Then use one of the many ways angel feather has to get it into your hand or the field right away, but more on that later.  The third way you can use her is to send a grade 3 into the damage zone and dump it into the drop zone with her own effect.  Thus thinning out the deck for a better shot to check a trigger and not worry about checking into the grade 3 later on.
Wild Shot Celestial, Raguel- 12K beatstick when you have a vanguard with celestial in its name.  Hits for 15K by itself when you have Zerachiel's limit break active.  Hits hard on turn 2 when your opponent rides a 6K grade 1.
Grade 1s: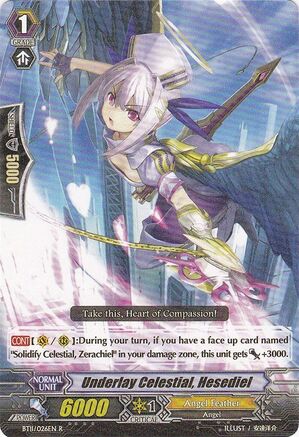 Underlay Celestial, Hesediel- Similar to Turquoise Beast Tamer from Pale Moon, this unit gets +3K on your turn if you have a face up Zerachiel in your damage zone.  Since you have many ways to get Zerachiel in your damage zone anyway, she is almost always a 9K booster and even a 12K booster when you have limit break active.  Your biggest and most preferred booster in all your columns.
Marking Celestial, Arabhaki- The grade 1 version of Wild Shot Celestial, Raguel that gets +3K if you have a Celestial vanguard.  You can put her in the front rear guard when you need an attacker which hits for 13K by herself with limit break active.  Then if you need a booster, you can move her to the back for a 10K booster with Limit Break.
Grade 0 (starting Vanguard):
First Aid Celestial, Peniel- Peniel's skill allows you to turn itself into any face up card in your damage zone.  If you really need a specific unit you can use Candle Celestial, Sariel's skill to put a card into the damage zone, then call it with Peniel's skill.
Non-celestial cards that help the deck:
Battle Cupid Nociel- Nociel allows you to swap a Zerachiel in your hand for a 10K shield or unit you need in the damage zone.  What more can you ask for?
Love Machine Gun, Nociel- Nociel allows you to put Zerachiel into your damage zone immediately if you have her in your hand and not want to wait to guard with Battle Cupid Nociel.  Adding Nociels to a Celestial deck along with Sariel allows you to always get Zerachiel in your damage zone no matter if she is in your hand or deck.
The basic playstyle of Celectials is to get Zerachiel in your damage zone, then just play beaters and set up columns accordingly to the match up.  Angel Feathers have been able to hit big numbers before with their swap mechanic and grade 1 & 2 ponies.  But before you had to work for it by setting up columns before you do your swapping with shamshiel or Metatron to give them power.  With Zerachiel, as long as your unit has Celestial in their name, everything gets power without paying cost or setting up columns beforehand.  Zerachiel hits for 22K with Limit Break when you still have your starting vanguard behind her and up to 26K if you have Hesediel behind her.  Not to mention that Zerachiel can also give herself +5K for the turn when you counterblast 2.
With Limit break active, my favorite column to set up is Raguel and Hesediel.  Raguel gets +3k from her own effect and another +3K from Zerachiel while Hesediel also gets the same boost making a grand total of 27K.  With Break Rides now being popular, there is a lower chance than ever that your opponent will not be cross rode which makes it a 20K worth of shields to guard this column.  Then a trigger on Hesediel, makes it become a 32K Column with only 1 trigger making it a 25K drop to guard.
The amount of Celestial units Angel Feathers receive in this set makes the deck viable by even receiving a new perfect guard and new set of triggers with Celestial in their names.  Overall, I feel this deck is strong due to its utility, support, and potential to hit high numbers easily.  When I played the deck over the weekend at the team tournament, I played against strong decks such as The End, Majesty, and Sweep Command and this deck not only kept up with them but even beat them.  Thank you for checking out my overview of Celestials!
Discussion
comments