There is so much more to a Kaijudo card than its power and ability. The thought put into every card from designing what it does, artwork, and flavor text is unbelievable. Every card is like a piece of art that is meant to be appreciated. That is something many people just pass over because all they want to do is play the game, but you will enjoy Kaijudo more if you take the time to look at all the cards and appreciate the work that went into making them. I am a huge player and collector because these are some of the best looking trading cards I have seen. The way the artists are able to capture the ideas that R&D have is incredible. In this article I am going to focus on flavor text though.
The flavor text is the words that are printed at the bottom of most cards. It is not needed to play Kaijudo, but it is there as a way to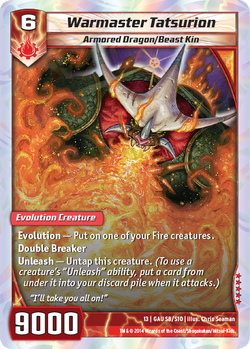 make the game more exciting for players. It helps give cards more of a meaning in a way you can relate to them. Cards can come alive by reading them and you can use it as a voice for the character on the card. Flavor text can also be there to express the meaning behind the card. Other times the flavor text is something fun you can shout out when you play the card. When you play [ccProd]Warmaster Tatsurion[/ccProd] and are about to attack over a lot of your opponents creatures you can shout out "I'll take you all on!" I am sure your opponent and others around you will get a kick out of that. There are some pretty epic phrases on flavor text that you can say while playing a game of Kaijudo that are catchy and fun to say. One of my favorites when I first started playing was [ccProd]Bolt-Tail Dragon[/ccProd], "It will engulf your entire world in fire and chaos, and then you will see it coming." They do not always have to be serious though, sometimes they are just downright funny. One of the recent funny ones is [ccProd]Tide Angler[/ccProd] "Deadly in salt water. Delicious with salt." This is just a sample of how they can be done. Here is a list of some of my favorite flavor text from cards from the newest Set Quest for the Gauntlet.
Change-o-bot Glu-urrgle                                                                                 
"Gargle in disguise! More than meets the eyes!"
Relentless Vanguard
            "TERMINATE! TERMINATE! TERMINATE!"
Eternity Pulse
            "Only in desperation are heroes born. —Master Jaha
Laser Drone
            "Less QQ! More pew pew!" —Gargle
Blinder Beetle
            Closing your eyes won't help. Either way, you won't be able to see. 
Cyber lord Wakiki
            She's the Water civilization's reigning arm-wrestling champion.
Kalorth, Lord of Tides
            Fighting against Kalorth is like fighting every wave of the ocean.
Forsaken Puppet
            As you grow up and discard the toys of your childhood, you forget them. But they never forget you. . . .
Mr.Smiles
            "ArE YOu HaPpy yeT???"
Thundering Clap
            High five!
Amberhorn
            "Prickleback and I used to chase amberhorns when we were kids. One day, an old pack alpha tossed Prickleback into the air with its horn, so I started using that trick. That's when Prickleback stopped making fun of my horns." —Tatsurion
Colonel Corn
            "He's one tough colonel. He'll never pop under pressure." —Corporal Pepper
Rapscallion
            "I, Rapscallion, claim this soil in the name of the wild veggies!"
Root Trap
            "It's time some roots put YOU down." —Ray 
Eye of Inquisition
            "You are guilty until proven guilty."
Supreme Dragon Bolshack
            "Test me, and you shall see that the Fire civilization does not bend to oppression."
 These are not in any particular order, but they are all some awesome examples of how effective flavor text really is. They can generate more excitement into the game and is one of the many aspects I love about Kaijudo. I encourage you to go through and look at all your cards and find some awesome flavor text that others might have overlooked. Flavor text can make "bad" cards "good" just because the voice being expressed in the text. An example of this is [ccProd]Hydrobot Crab[/ccProd] that is one of the worst cards in all of Kaijudo, but because of Earthpower and how funny the card is, it is now a hilarious joke throughout the community and has even spawned new cards Hydrobot Scarab and Hyrdobot Nautilus. What are some of your favorite flavor text? Feel free to let me know in the comments down below. There is more to Kaijudo than just playing the game, it is made so that everyone can enjoy it, even if you do not play that much. On that note I am going to end with flavor text from the rarest card in Kaijudo. "Are we having fun yet?"
Discussion
comments